Please scroll down for english version.
Bitte unterzugehen auf Deutsch Version.
-------------------
2011年3月11日
妊娠中の友達が、親族が、たくさん死んだ。
津波に飲まれているのも、燃えているのも、私の生まれ育った故郷の街だった。
美しい故郷が壊滅してしまった。
正直、もう世界の終わりにしてほしかった。
こんな形で死ぬために、生きていた人達ではなかったから。
こんな別れ方をするために、出逢った人たちではなかったから。
生き延びた人へ、ただ愛ある抱擁を送りたい。
愛を、描いて生きたい。
私は死ぬまで描き続けるから、生き延びたあなたも、死んでしまったあなたも、一緒に見届けて欲しい。
そして画家として、自分の故郷の復興を、きちんと見届けたい。
絶対に諦めることは、ない。
小野寺綾
-------------------
11. März 2011
Eine Freundin im neunten Monat schwanger, mein Onkel und viele weitere Menschen wurden in meiner Heimatstadt Kesseuname getötet.
Dies war die Stadt, wo ich geboren wurde und wo ich aufgewachsen bin, die so plötzlich vom Meer weggespült wurde und einem verheerenden Feuer verbrannte.
Meine schöne Heimatstadt ist in einem Tsunami zerstört worden.
Als ich dies erfuhr, wollte ich dass die Welt endet.
Weil alle diese Menschen nicht ein solche Ende verdient haben.
Weil sie nicht mehr mit mir getroffen haben, um Abschied zu nehmen.
Ich möchte den Überlebenden mit meiner Liebe umarmen.
Ich werde weiterleben, und bis zu meinem Tod mit all meiner Liebe malen.
Bitte schauen Sie meine Malerei weiterhin an, den Überlebenden auch, den Verstorbenen auch.
Auch wenn ich nur Malerin bin, Ich werde nicht aufgeben und für die Wiedergeburt meiner Heimatstadt kämpfen.
Mit Herzlichst
Aya Onodera
-----------------------
March 11st. 2011
My beautiful home town was destroyed.
A lot of people have died, including many of my friends and relatives.
When I heard that, I wanted the world to stop.
Because all these people do not deserve such an end.
Because they were not able to meet with me, just to say goodbye.
It needs no words, no sympathy, no tears from you.
I want to send a loving embrace to you, who survived.
I promised my friends, relatives and the people of my hometown who went to heaven that I would not give up because of this terrible tragedy.
I will never give up.
I will strive to see the revival of my hometown and happiness there once again.
I live on and I will paint with love until my dying day.
I implore both the living and the dead to continue to look at my paintings
Best wish
Aya Onodera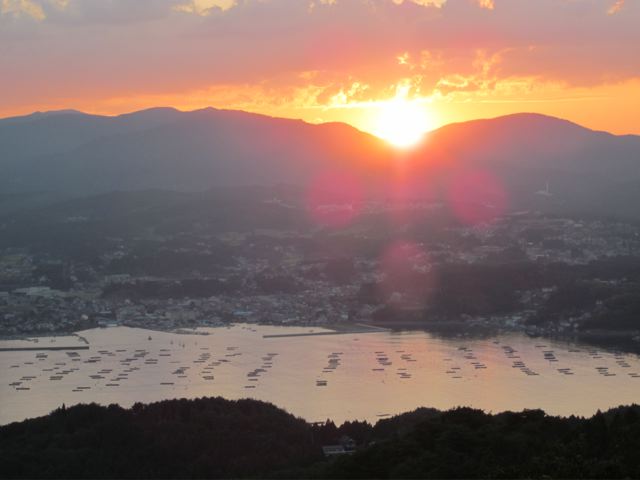 meine Heimatsmeer, KESENNUMA, 2010